Envoi de Kim Dien Phan, février 2005.

11H37 ... Depuis plus d'une heure, retour des courses. Fouille dans mes sacs et dossiers pour REPONDRE à ta lettre.

Paris ce jeudi des livres 3 février 2005,
à Pascal P.,

Cueilli à FROID. C'est le cas de le dire. Je lis vite ton mot. L'aventure vécue en commun partie de notre vie. 'Suis toujours in touch avec toi... Je fais un 'tit mot à Victoire. 3 enfants. Galère après.

MOURNING and Shakin' hands.

Oh! My lord. take him in your arms and ease his paint. Was he so ashamed to die because John KERRY lost the elections... ? ...And The mad and stupid EMPEROR assures us that in the name of GOD & God did you send him en mission ?... Pour us, si c'est le cas... Menace d'attaques ciblées (par avions... Gens infiltrés pour localiser les sites). L'IRAN avec la BOMBE A ou H... une menace.
Michael nous nous sommes bien entendus. Tu as dit à Rüdiger (qui porte aussi sa croix de fils d'allemand pro nazi)... que tes ancêtres allemands de Russie ont émigré aux USA... Votre projet d'y retourner. Habiter. Victoire aimait parler en anglais avec PKD.
L'été 2002... vous avez réussi à nous faire boire du jus de racines, de feuilles de blé. Manger végétarien !...
2 photos en souvenirs de chez vous. Chiottes bio... et le gardien de l'âme de chez vous. Je joins à ce mot improvisé Ta lettre d'après le 11 septembre 199...non, 2001... J'ai du mal avec les dates... Dis, Michael y a-t-il du Blues, du rock in heaven !?... Nous avons tous les deux joint nos voix : "OVER THE RAINBOWS, somewhere" Repose en paix !... Bois un coup à notre santé avec les gens d'en haut... 11H40.

Je sors poster 12H30
déjeuner du fils n°1 Sina.
PKD
Michael Slakey était mon ami avant la créa­tion de cARTed, il a par­ta­gé cette aven­tu­re en y par­ti­ci­pant ac­ti­ve­ment dès le dé­but. Je lui of­fre ici, avec la com­pli­ci­té de ses amis, ce ca­hier / clin d'oeil main­te­nant qu'il est parti.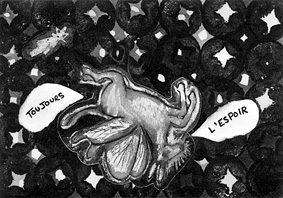 The Other Galleries :
• La Maison de Carmen
• A Côté de la Plaque
• Siouville cARTedland
• In Memory of Michael
cARTed Cooperation :
• Voyage de Taches
• Homer's Odyssey
cARTed Newsletters :
Demander l'inscription
Ask to subscribe