Envoi d'Alain Pithois, février 2005.

Un petit rien pour Michael,

Le 25 mars 2003 à 6 heures 39, tu écrivais à tes amis, en anglais, pour nous tous de part et d'autre des océans, ta honte face aux campagnes anti-françaises menées par les extrémistes toujours au pouvoir aux Etats-Unis :
"As a resident of France, I must say that I am upset by the jingoistic slander being propagated toward this country by people who have somehow arrived in high places".
Les français peuvent comprendre la honte d'être représenté par ces gens arrivés par hasard aux plus hautes places et qui ne sont que mépris pour d'autres peuples, Michael, notre ami américain par Victoire.

Mais il y avait plus grave à tes yeux, aux yeux de tous tes amis, la pluie de bombes sur Bagdad :
"As the bombs fall on Bagdad, it hurts to think of our founding fathers who defied a great military power to found a new hope for humanity - I find myself filled with shame for my own country".

Shame, your SHAME, Michael... Prédicateurs de tous poils, de quel côté est la morale ??
Tu nous as dit l'autre Amérique, ton Amérique, celle qui dit la grandeur de l'homme, carved across your soul : le poids des idéaux, la profondeur des convictions, l'ampleur des aspirations.
La morale, la morale toujours messieurs les Prédicateurs ! Pas la morale des autres, surtout pas la vôtre ("one nation under God, with base ideals, shallow convictions, and for our interests only selfishness and greed"), celle qui flambe dans l'esprit éclairé.

Représentant de "the infinite potential of a human life", tu l'es toujours aujourd'hui. Un artiste cosmiquement ouvert aux sons et aux couleurs de la vie : "it is my life's work to be open to the sounds and colours of life".

Pardonne ma réponse tardive Michaël et permets-moi en offrande européenne de te couronner du tréma (...sur le e de ton prenom...). Ce message est posé là sur cette table depuis bientôt deux ans. Tu y as pourtant écrit, pensant à ton travail d'artiste et à Guernica : "what can I do now ?" Dans mon apathie, je n'ai pas su répondre et ne le sais pas encore aujourd'hui.
Quand nous nous recroiserons dans l'Hadès, j'aimerais qu'on y parle ensemble réincarnation.
Michael Slakey était mon ami avant la créa­tion de cARTed, il a par­ta­gé cette aven­tu­re en y par­ti­ci­pant ac­ti­ve­ment dès le dé­but. Je lui of­fre ici, avec la com­pli­ci­té de ses amis, ce ca­hier / clin d'oeil main­te­nant qu'il est parti.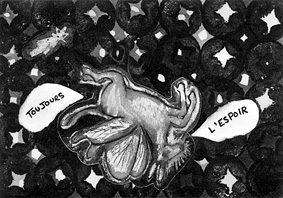 The Other Galleries :
• La Maison de Carmen
• A Côté de la Plaque
• Siouville cARTedland
• In Memory of Michael
cARTed Cooperation :
• Voyage de Taches
• Homer's Odyssey
cARTed Newsletters :
Demander l'inscription
Ask to subscribe