From Michael to Ralph Rumney.
Hey, Ralph, where are you now ?
Yours was a sad song
Behind a lasting smile.
Distrusting God, I wonder if
You used your ticket to Heaven ?
Distrusting privilege,
I doubt you did
If that train could be missed.
Where are you then ?
Not far from me perhaps
Ans some of this pain
Which overflows my cup
Right now, did you know the same ?
Hey Ralph, what statue now
Presides beside your Paris grave,
I haven't been,
But I'd like to leave some wine sometime,
Up from the sunny South
That warmed your bones
When there was hardly aught else
And drenched your throat
In ruby forgetfulness.
Michael Slakey était mon ami avant la créa­tion de cARTed, il a par­ta­gé cette aven­tu­re en y par­ti­ci­pant ac­ti­ve­ment dès le dé­but. Je lui of­fre ici, avec la com­pli­ci­té de ses amis, ce ca­hier / clin d'oeil main­te­nant qu'il est parti.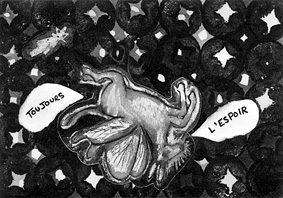 cARTed Cooperation :
• Voyage de Taches
• Homer's Odyssey
• Siouville cARTedland
• In Memory of Michael