From Michael to Kim Dien Phan. Quelques jours après le 11 septembre 2001.

Dear Dien,
The rest of this letter has been on the desk all week, it is very hard to write, it has been very hard.
...
I hope you are ok, especially that the friends you mentioned having in the States are ok (yours + Simine's).

Les morts sont en paix, je le crois avec ferveur, mais tous les blessés, ceux en corps et dans le coeur, les survivants, c'est terrible. Mon coeur est plein de compassion pour tous ceux qui souffrent, et j'ai très peur pour les peuples déjà détruits sous la terreur des talibans, les irakiens, et tous ceux qui vivent opprimés par la haine.
Quand j'ai vu les explosions, le choc que j'ai ressenti a réveillé celui de Hiroshima + Nagasaki, des nazis, du Chiapas, de l'Irak, du Vietnam, de toutes ces autres manifestations de terreur.
Un Grand Sage a dit "nulle part plus qu'en Enfer y a-t-il un plus grand besoin d'Amour".
We feel very isolated and powerless, although we realize that the powerlessness is an illusion. The tragedy of the human condition at present is that we do not accept our power, our essence, our divinity. In so much as I am conscious of this I am at peace, and in the bottom of my heart the grief finds the endless own of love wich forgives all and nurtures all.
We so much need to learn to forgive ! To understand !
I do not believe in Evil, in the devil, they are a projection of fear and in this world everything is either fear born or love born.
My hope and faith is that people are waking up. Les âmes se réveillent. Elles se réveillent à l'ampleur de la guerre que nous menions contre la vie en raison de notre sommeil + de notre capacité à faire des cauchemars. Une guerre contre la planète, seul notre éveil peut l'arrêter, et il est en nous cet éveil, l'éveil à la rédemption totale de la souffrance.

Cher Dien,
J'ai écrit ces mots quelques jours après les attentats et depuis comme d'habitude le temps a passé.
Le vent souffle très fort, c'est très beau, et il fait doux.
Je me dis que si ça continue comme ça, tu recevras un paquet de lettres à Noël ; c'est un peu comme avant le pétrole, le courrier prend si longtemps, comme s'il voyageait à pied, ou en ramant, en solitaire vers les amis du large.

Et hop on fait du STOP.
Michael Slakey était mon ami avant la créa­tion de cARTed, il a par­ta­gé cette aven­tu­re en y par­ti­ci­pant ac­ti­ve­ment dès le dé­but. Je lui of­fre ici, avec la com­pli­ci­té de ses amis, ce ca­hier / clin d'oeil main­te­nant qu'il est parti.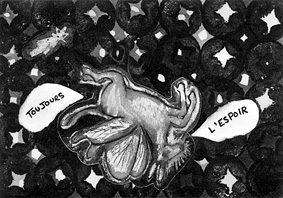 cARTed Cooperation :
• Voyage de Taches
• Homer's Odyssey
• Siouville cARTedland
• In Memory of Michael