cARTed Series n.024 - janvier 1996 - Cherbourg

special "Cartes & Mini-Cartes"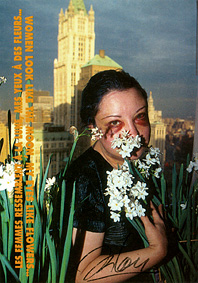 WOMEN LOOK LIKE THE MOON, MY EYES LIKE FLOWERS...
Cibachrome 110x165cm Photo faite après la 7e opération chirurgicale performance New York 1993 Sandra Gering gallery - Photo : V. Sichov pour Sipa-press
ORLAN dares to exert a domination on her own body without following any actual standard of plastic surgery. She is transforming her face but her aim is not to attain any ideal beauty, or perfection.
For her last surgery in New York she wanted important changes like the bumps she has now on her temples. This performance was broadcast live with the help of interactive telecommunication equipment in 14 places around the world like Center Georges Pompidou (Paris), Mac Luhan Center (Toronto), Media-Art-Center (Banff). As usual, Orlan stayed awake during the surgey-performance, while explaining her project, answering questions and comments from the public. Orlan is the only artist who works so radically with her own body. She is asking, for example, questions about the status of the body in our society and for future generations via genetic manipulations.